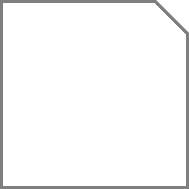 INVISIBLE ADS AND A BOUNCE RATE
Banner blindness is a well reckognized phenomena. Even though it is being associated with a laboratory and a sophisticated eye-tracking system, it sometimes can be found in a wild.
One of the sites I am responsible for, has challenged lately few well-established design and marketing patterns. The goal was to attract new, preferably young users through the gradual enrichment and better profiled content. I was asked to implement the new pages, redesigned by the Client. The new layout had a clearer section divisions and emphasized rather video content, than ads.
As this service is a kind of a social hub, any such change is immediately noticed and thoroughly discussed by users. Certainly, their explicit opinions should be approached
cum grano salis
, but this time I was completely startled. The new pages were accused to be overwhelmed with ads!
If I were not able to think laterally, I would be stuck till now. But the explanation occured to be simple: a banner blindness backfired! YouTube clips resembled regular ads in their sizes and graphical character. User was even not aware, that (s)he had ignored not the advertisements, but the regular video content of this web service.
If the business goal is to be reached, it is still to early to predict. The enterprise consists of not only a page design. But monitoring changes of the
bounce rate
should serve well in this case as an early warning system.